Vhils
Vhils NFT artist is someone who is best known for his urban motives. Having started his career in art in the 2000s as a graffiti artist, he became renowned in over 30 countries, presenting his visuals in exhibitions and collaborations, such as CAFA Art Museum in Beijing, 104 in Paris, and MAAT in Lisbon. Most Vhils artworks are recognized by multiple layers of material visible in both physical and digital pieces, as well as sculptural installations and views of explosions. 
But what else do we know about Vhils? Who is Vhils behind his pseudonym?
Who is Vhils?
The real name of Vhils is Alexandre Farto, and he is a Portuguese artist who started his career as an NFT artist Vhils not long ago. 
Since the young creator produced his first NFT called 'Rupture' in 2021, he began to draw audiences of virtual art admirers. What makes it stand out from other Vhils digital arts is that it reveals Alexandre's desire to make portraits on the walls of a dilapidated factory among the chaos. 
This item by Vhils artist was taken with a slow-motion camera at 2 thousand frames per second and showed the process of portrait creation. The image reveals both creation and destruction at the same time. 
Today the NFT collections by Vhils NFT artist on OpenSea include over 900 items. Most of them are video NFTs, creative portrait images, and urban landscapes.
The best Vhils artworks
Scratching the Surface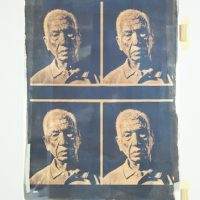 Achromatize
See other NFT artists