FEWOCiOUS
Being one of the youngest artists of NFTs, FEWOCiOUS NFT artist, 19 years of age, is a real star. 
So, who is FEWOCiOUS? The artist is a Las Vegas-born young man who started painting at the age of 13. It was only two years ago that he had a start in the world of digital art and made a record of selling NFT of nearly $20 million worth just in 24 h on a public sale. This is the historic 3rd highest amount at the marketplace Nifty Gateway.
Who is FEWOCiOUS?
The real name of FEWOCiOUS artist is Victor Langlois. The artist's strange personality awakens a lot of emotions due to the unique style that the NFT artist FEWOCiOUS has. He is known for its interconnected and vibrant imagery. Many of Fewo's art pieces hit 6 figures in auctions.
Most famous and lucrative of FEWOCiOUS artworks include:
Nice to meet you, I'm Mr. Misunderstood: 1,473,677 ETH.

The EverLasting Beautiful: 285,530 ETH.

Year 4, Age 17: His name is Victor: 246,596 ETH.
The topics behind the digital artworks by FEWOCiOUS NFT artist are all based on feelings. For instance, this is the place in the world for a transgender young person, family issues such as abuse, artistic freedom, etc. 
All of FEWOCiOUS digital arts gain even more value considering the fact that Fewo never attended art classes but absorbed all the creativity from art books and other creators.
The best FEWOCiOUS artworks
Giving my heart away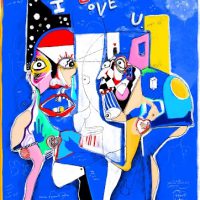 Our home was never built to last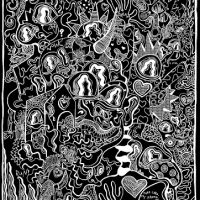 The Day I Decided to Fly
Victor and Victoria
See other NFT artists