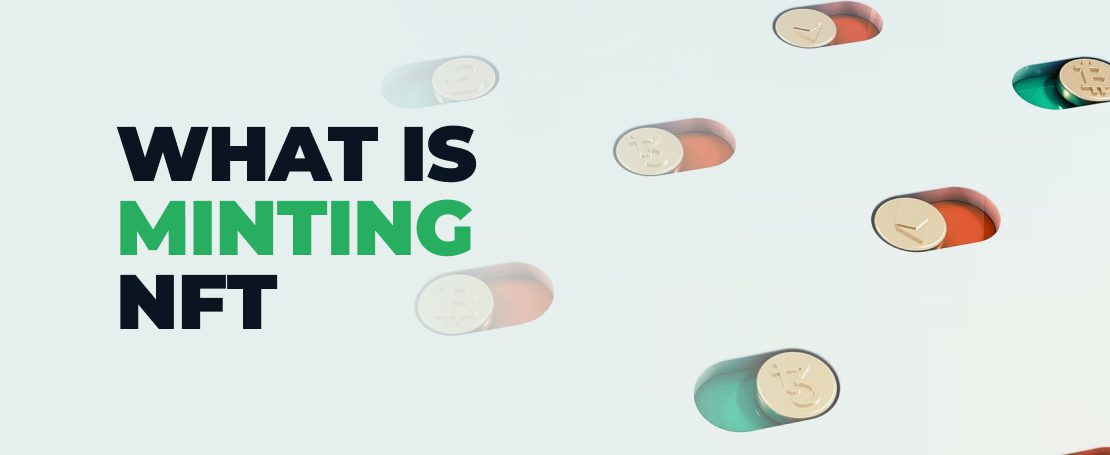 July 12, 2022
What Is Minting NFT: Digital Asset Creation Explained
It can be intimidating to enter the world of NFTs, especially for individuals who have never worked with this kind of digital asset. Therefore, the moment has come to respond to questions like, "What is minting NFT?" and "What does minting an NFT mean?"
NFTs, however, are more than just digital art. They may offer you privileges and membership in vehicle clubs as well as exclusive business chances. Playing the game allows you to upgrade and build them up. NFT could be any digital file, such as a voicemail or an item in a crypto game. Nothing is off-limits. Music and picture versions are the most widely used.
Non-fungible token, or NFTs, is the process of storing a digital file as a virtual asset on the blockchain. They are stored on a distributed ledger and are no longer editable. Additionally, the open-source blockchain will store all additional information about this token, including details on buying and selling it.
Therefore, minting is defined as the act of adding a file to the blockchain. To mint an NFT, digital assets must be transformed into cryptocurrency holdings or other digital assets stored on a blockchain. The digital assets or files will be kept in a decentralized database or distributed ledger and cannot be changed, altered, or removed.
NFTs are like cryptocurrencies; they can be created, displayed, and sold depending on how the audience reacts to them. If a buyer believes it to be valuable, they will pay millions; if it is unimportant, the price doesn't increase significantly.
What is NFT Minting, and What Aspects Should I Bear in Mind Before Minting?
Although now minting NFTs isn't a laborious or complicated procedure, there are several things to know before doing it. They will ensure that your NFT creation is accurate and stress-free.
Platforms for blockchain
A specific blockchain backs every NFT in the world. The only trustworthy options for storing a non-fungible token are the blockchains that enable it. As follows:
Ethereum
Binance Smart Chain
WAX
Tezos
Tron
Polkadot
Cosmos
Flow by Dapper Labs
EOS
The NFT ecosystem
A blockchain-based platform called the NFT Ecosystem seeks to standardize the generation and exchange of non-fungible tokens (NFTs). The NFT Ecosystem stands apart from other platforms thanks to several important characteristics. You can tokenize anything you can think of on a smart contract platform like Ethereum. Media like music, arts, and photographs fall under this category. It matters, so make sure the blockchain you choose supports NFT sales and transfers between other blockchains.
Price and accessibility
For blockchain operations, there are fees; Matic and Binance Smart Chain have cheaper gas fees than other platforms Like Ethereum. They are also the most used among NFT creators; they offer more affordable NFT minting and are the largest crypto market centers.
The NFT Market Place
It is not sufficient to understand the definition of "NFT minting." You should pick a reputable Marketplace to sell the newly created NFT. Several marketplaces support some blockchains, while others do not. For instance, developers created Rarible, OpenSea, and Mintable, among other marketplaces using the Ethereum network. Juggerworld and Treasureland are suitable solely for the Binance Smart Chain.
When You Have A Minted NFT, What Does It mean
You must sell the item once you've decided to create an NFT. However, some preparation is necessary:
Create a cryptocurrency wallet.
You can earn money for selling NFTs and utilize your cryptocurrency to pay fees if you use a wallet like MetaMask, one of the most popular on OpenSea.
It's advantageous to have some Ethereum because many marketplaces accept it. Opening an account on exchange websites like Crypto.com or Coinbase is the simplest way to obtain Ethereum.
Link the wallet to an NFT Marketplace.
To unlock the wallet in the browser, locate the MetaMask plugin and log in. Visit OpenSea next, agree to all the rules, and email your identification to confirm it.
How to Mint on OpenSea
You require a wallet that can be connected to OpenSea to begin minting NFTs. There are a few options available here, but since MetaMask is the most often used one, we suggest using it.
NFTs are Minted In Stages:
Pre-minting
Once you have been given access to OpenSea, go to "My Collections." Then select "Create" and include images, memes, or sober posters.
Minting
Dispatch the new collection. The form displayed in the drop-down menu should be filled out. Mention the collection's name, characteristics, category, and description.
That's all, then! Now that you have an NFT collection, you have the potential to follow in the footsteps of Beeple (if you work hard and let your talent shine!).
How much time is required to mint an NFT?
It is difficult to predict how long it will take to mint NFTs. However, practically all NFT marketplaces, platforms, and tools make it simple to create NFTs.
The standard procedure for making an account or authenticating into the major NFT marketplaces involves installing Chrome's Metamask Ethereum wallet browser plugin.
Similar to uploading a movie to YouTube, a song to Spotify, or even offering a digital good or product for sale on Amazon, eBay, or Etsy, converting your digital content to NFT, submitting the file to NFT markets, and making it available for sale are all NFT processes.
PNG, JPG, GIF, MP3, or MP4 files can be uploaded, given a title and subtitle, a description, and royalties can be set up and sold.
Fees for NFTs Gas fees, which apply to all cryptocurrency transactions, must be paid to mint an NFT. You can also be required to give the market some money.
There are different ways to make money with NFTs
Renting your NFTs, receiving royalties from them, staking your NFTs, or flipping your NFTs are all possible ways to do this.
Flipping often involves purchasing an NFT on an online marketplace and then reselling it for a profit. Experts advise you only to purchase NFTs with some inherent worth, nevertheless. NFTs without any utility may swiftly lose their price, as we have lately observed.
Final Thoughts
So, without any prior experience or understanding, that is how you can mint NFTs. We defined the word "minting an NFT" and provided a step-by-step tutorial for performing minting, so perhaps you now understand what these terms mean.