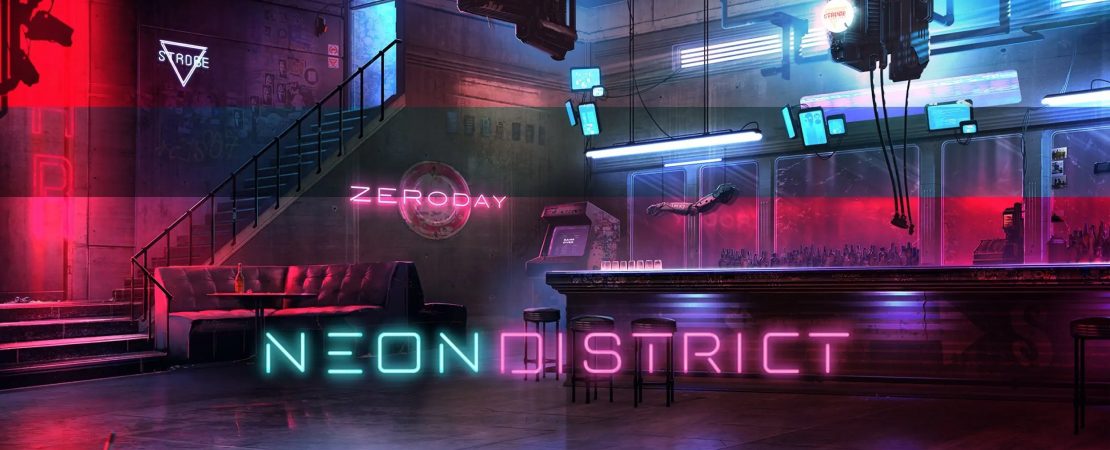 Neon District
NFT games are the talk of the web. Everyone seems interested in them. What are the reasons? 
First, NFT games are different from just buying crypto collectibles to keep them in wallets. They are more about game achievements and creativity. In games, there are totally unique tokens which can be combined, created, and swapped. NFT games also provide a unique chance to monetize playing efforts by selling and buying game items or taking parts in different tournaments to get digital money.
So, the Neon District is another blockchain technology-based game with role-playing. It was designed in 2019 but fully came out in 2021. The game offers play-to-earn opportunities that we'll discuss further in this Neon District review. 
This blockchain game is free to play and earn because it was created on the blockchain. It is available to play in a browser, can be great for newcomers in the sphere of NFT games, and has a very simple signup procedure.
This new Neon District game review will tell you more about it.
What is
Neon District?
Neon District is known as a cyberpunk science-fiction game with a role play. Produced by the Blockade Game company, it is based on Polygon. The native currency earned on this blockchain is Polygon (MATIC) and ETH. 
What are Neon District and its goals? The dystopian game sets a goal before players to deliver pizzas. 
Neon District includes different difficulty levels that spice up the gameplay with new modes.
The game is totally free to play, by the way. 
Users create teams and send them on pizza deliveries. You can also use power ups that increase the value of your NFTs. Game achievements are rewarded with Neon currency. 
Yet, fulfilling pizza orders isn't going to be smooth. You will often need to fight to protect your team from other groups that may try to attack. 
There are more challenges and higher rewards as you go to upper levels. So, what is Neon District game, to sum it up? A free way to earn crypto rewards in a legit, simple way.
How to play
Neon District?
So, how can you get into Neon District? To play Neon District, follow this short guide:
Step1. Visit the game's main website, and you will see a few options: Register and Log in. 
Step2. Register by creating a new username and password. Your game account will double as a wallet for the rewards you earn in the future. Connecting other wallets such as web3 is also available. 
Step 3. Claim your 1 free character, 5 Juice, and 300 Neon (you'll see this option on the dashboard). This crypto coin amount will be just enough to complete your team with another 3 characters and swing into action.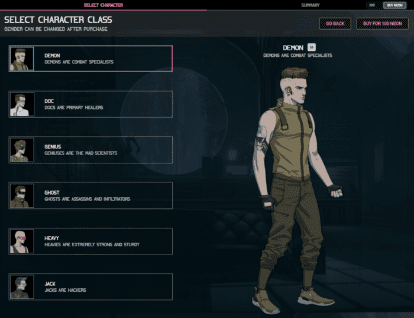 The choice is among these character types:
Healers that come in handy when other characters are put in danger.
Specialists in creative destruction. They are very intelligent and use their brains to solve complex issues.
Killer. Change the perception of other characters and go out unharmed in any situation.
A powerful fighter with outstanding speed and agility. Has strong health, tactics, and stealth.
Jack is able to 'hack' anything and can make predictions and affect the results of events that depend on luck.
Very strong character affects how those around them feel. Therefore, the question 'how to play Neon District?' will be automatically solved as you practice using these characters. 
Step 4. Choose 'Neon Pizza' and pick Delivering Agents to start completing orders.
How Does
Neon District

work?

How does Neon District work, and is there a limit? To defend the team, there's weapon available for buying. Each of the 4 team members can be armed to increase the chances of successful operations. 

Upgrading teams and making orders aren't the only goals of this game. Developing gear such as Loot boxes (Gear Crates) also rewards you more. 

There's something to know about game currencies start playing Neon District as well:
Neon (main in-game currency): is used to purchase team characters, and equipment, and upgrade many items to make them worth more

Juice: is used to buy items for characters bought with Neon

Gear Crates: are expensive (cost 500 Neon) and provide you with 4 random items at a time

Parts: are used to upgrading weapons and armor purchased previously with Neon
Buying Neon is easy with a credit card or cryptocurrency (Ethereum) if you have already opened an Ethereum wallet and connected it to your game account. 
All item power-ups are of different rarity: 
Ultra rare

Rare

Uncommon

Common
How to make money on
Neon District?
Buying and selling NFTs for the game is possible through marketplace sites such as OpenSea and Arkane. However, you don't always need to go to these marketplaces to complete the purchase: open the Neon District home page to buy them with OpenSea. 
All players can choose between three types of assets: Characters, Gear, and Shells. While we ready discussed Characters, let's look at the gear and shells. 
Weapons, fighting costumes, etc. Gear crates let you prepare new characters for deliveries.
Skins that boost the capabilities of gear and characters can help you craft assets with more powerful stats or choose the rarest items for your team.
The 'play to earn' mechanism in Neon District works in the following way: 
This is the main game's mode named 'Neon Pizza.' The team you formed delivers pizza and earns Neon.
Reaching Tier 2 (doing 42 shifts) means you can now steal Neon tokens from other players.
Selling NFTs inside the game.
Working on upgrading your assets in the game makes them more valuable and can bring additional profit.
That's how users make money on Neon District.
How much can you earn in
Neon District?
How much can you earn in Neon District if you play every day?
The amount of wins is always a subjective thing. You can use game opportunities to level up your characters and gear and sell items to generate profit. Yet, specific sums aren't known and can't be estimated unless you start playing and  try to earn money in Neon District in a few different ways: 
Delivering pizza to the local residents of the fictional world successfully 

Robbing other players (not everyone's favorite strategy as you can reap what you've sown)

Developing and leveling up game items (requires effort and time and often is one of the most effective ways to earn in Neon District).
Conclusion
Neon District is a very lightweight game with a play-to-earn mechanism that will be best for novice NFT game players. However, you don't need much to get started. There's nothing to download, the registration is simple enough, and buying and selling NFT can take the place of a few market sites. 
The game is available for PC and mobile users (iOS and Android). So, you can earn crypto with a smartphone or iPhone on the go!
It is worth noting that making any activity in the game includes great aesthetics. The gaming experience is rewarding for both new players and those with status. The start is very good in terms of acquiring NFTs: anyone is obtaining free characters and has everything it takes to develop at the price of game tokens. 
The list of benefits is impressive, isn't it? 
For more info on the news and updated data about Neon, and District NFTs, see TopNFTCollections.com.
Let's start?
Start earn money playing Neon District right now!