Illuvium
These days games have become more user-controlled and integrate many solutions. In other words, they become way more useful. And profitable!
The number of amazing and noteworthy crypto games such as The Sandbox, Crypto Kitties, and Axie Infinity is widening every day. They are fun to spend time in, help you better understand the world of NFTs, and earn well at the same time.
Today's article focuses on the emerging role-playing game (RPG) Illuvium. The game is powered by blockchain technology and Non-Fungible tokens, or NFTs. 
It offers a very high quality of character-focused play with the opportunities to earn NFTs, which have two kinds of use: both inside the game and as assets. 
Follow this short Illuvium game review to see the game's best features and discover its unique sides. This Illuvium review will also tell you about the game's money-making potential.
What is
Illuvium?
For a start, let's see What the Illuvium game is. 
Illuvium is a blockchain game with a P2E structure designed to let users earn crypto rewards in the form of ILV tokens by completing exciting quests and competitions. In addition, it offers playing in real time and no-fee staking digital tokens. 
What makes the game unrivaled is the high degree of responsibility in preserving privacy through the infrastructure containing Zero Knowledge Rollups (or zk-Rollups) and Zero-Knowledge Proof cryptography technologies. This is a sign that the game implements a high-end solution for protecting users' private keys.
What is Illuvium in several images? This game will favor those who love fantastic beasts and want to advance further in the activities such as battling with other players, collecting tokens, and trading different items. The central place here is taken by the cute illuvials — fictional characters and NFTs that can take part in fights, be traded, or kept.
These NFTs can be bought and sold at marketplace websites like OpenSea. Another decentralized marketplace for buying them is
IlluvDEX They can represent a set of game items: skins, collectibles, emotes, etc. 
How to play
Illuvium?
This crypto game is somehow exclusive and it's not so easy to get a place there. So, what should you do to play Illuvium?
Now users can only become members of the beta version named Autobattler Private Beta 1 by Illuvium. Places there are few. 
The beta version presupposes the participation in the survival mode which is a Player versus Environment world. The task for players is to resist illuvial waves, get strong, and achieve a higher status. However, it's a challenge and complete victory is impossible. So, mostly the goal is to survive as long as you can. 
How to play Illuvium for beginners? Now, it's simple: nothing to download, with all being done on the site.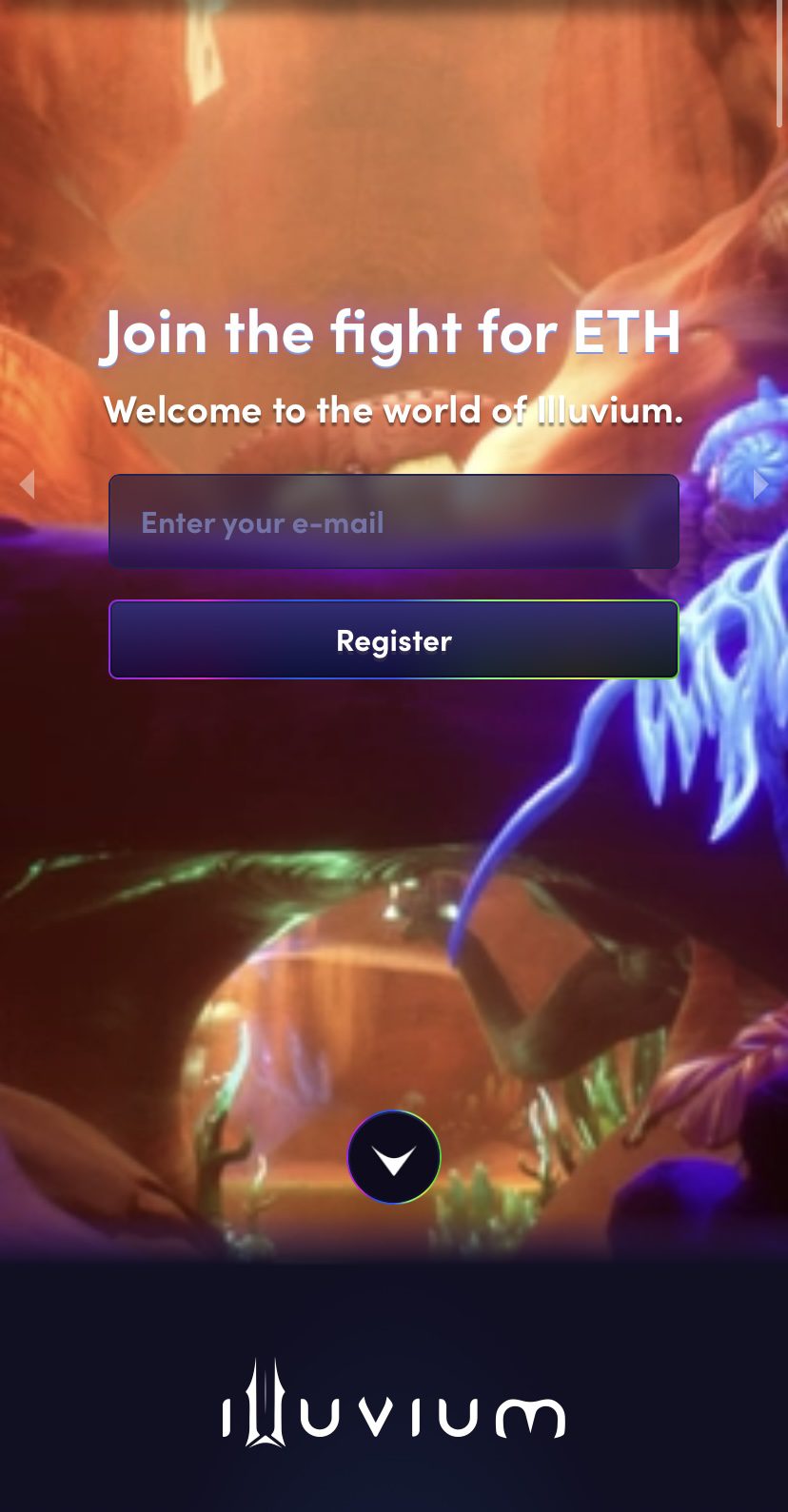 Complete registration at

illuvium.io

with an active email address.

Fill in the form for beta (Beta Application Form).

Once accepted, go into the gameplay by making a character of your choice, customizing it, testing its effectiveness, and sending it to the battlefield. In the game, you can also power them up explore new territories, and fight many enemies.
How Does
Illuvium

work?

The key goal for Illuvium players is to create a strong team and work out an effective strategy. A player needs to pave the way to the top through taking part in competitions and defeating their opponents. 

The special action starts when you begin to visit different places of the world and planets in the game to meet and fight creatures named illuvials. These illuvials are NFTs which can be mined, collected, and fought. 

Getting a team ready means you can join the virtual battle via an auto battler.

As soon as you start playing Illuvium and complete several battles, the game will open new opportunities such as: 
Using a drone to accompany you in your trips and serve you as a great assistant (the game function is called PSD: Polymorphic Subordinated Drone)

Changing character's appearance 

Get splinters and various power-up tools

Get shards for free

Subdue enemies in different planets

Discover obelisks (keys to planets)
How to make money on
Illuvium?
This game isn't complex at all and once you get the grasp of it there are good chances to make a profit. 
The potential to earn grows when you make game decisions such as selling gems and other valuable items on IlluviumDEX. In particular, here is the list of methods how users make money on Illuvium:
If you catch these creations, you can sell them on the IlluviumDEX for real money.
Successful fights get you ILV tokens. Besides, a betting system can be effective for earning.
Selling game land and property
Illuvium makes room for speculations on the price of game equipment and land (still expected in the game)
This works well with powerful shards that usually cost much more than average.
ILV staking here is flexible: users can earn nearly 330% yearly. 
At first, try to make the most of these traditional methods to make money with Illuvium and later try to experiment.
How much can you earn in
Illuvium?
It wouldn't be fair to say that you can easily become a millionaire here. Yet, the odds of having big rewards on the condition of playing regularly are high. So, how much can you earn in Illuvium?
Thanks to the incentive staking based on smart contracts, users can play with core pools, flash pools, and synthetic and classical ILV tokens. 
It's also easy to choose NFTs on the game's website and purchase NFTs within the OpenSea platform. In the system, there are also treasure lands. These are real gold. They are available to trade, earn, and buy, so your wit and gaming efforts are the only things determining in what amounts one will make money in Illuvium.
In addition, in Illuvium, there are fast transactions and zero gas fees. This makes the whole game system fast, secure, and easy to generate revenues.
Conclusion
If you are bored with classical crypto coin investing, searching through strategies, and cryptocurrency price prediction, have an eye on games like Illuvial with a contemporary and effective play-to-earn mechanism. Illuvium is legit, exciting, and easy to navigate. 
Still, make sure you stick to a balanced approach when investing in characters. The market of NFTs doesn't guarantee the safety of these investments. So keep it in mind before getting started. 
Follow the game's update news to discover more details and see if it will be available on mobile devices (currently Android and iOS users don't have access to the game).
Let's start?
Start earn money playing Illuvium right now!