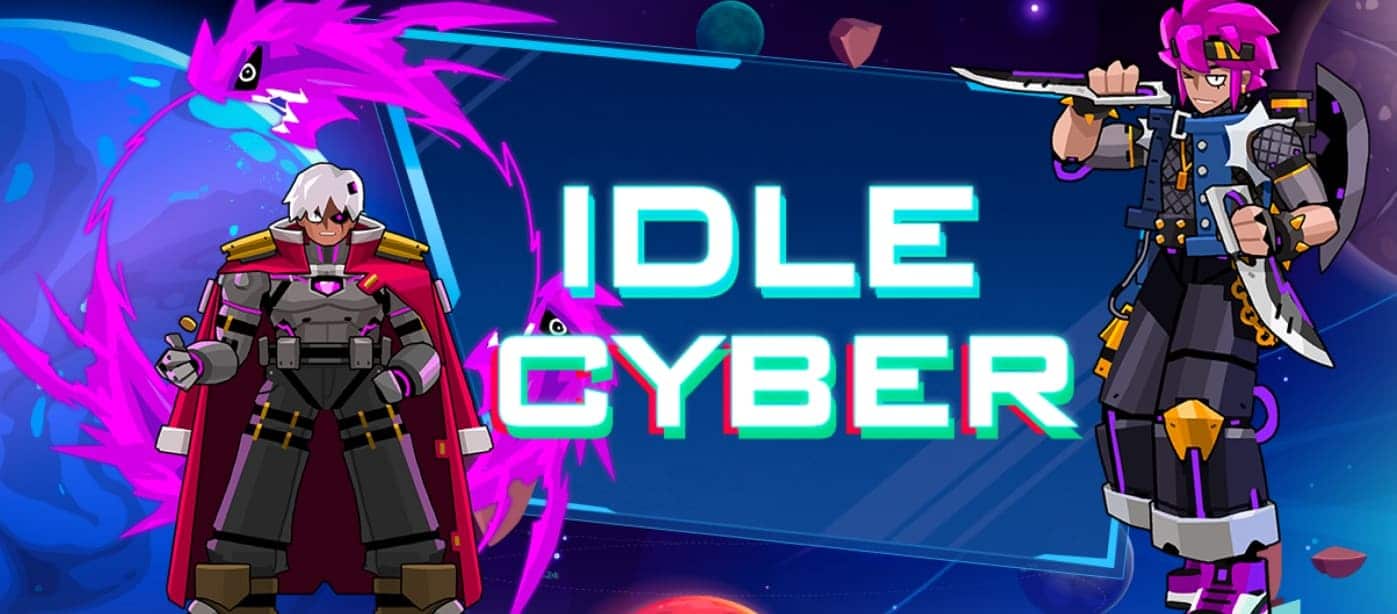 Idle Cyber
Here is an Idle Cyber game review. According to reviewers at coinlive.me, the action centers around a defense tower in this BSC-based (Binance Smart Chain) game. Your screen is divided into three sections starting from left to right: Mission Program, PVE (player vs. environment), and PVP (player vs. player).
In this Idle Cyber review, there are more than 64 in-game characters. They are available after completing four special lessons. You will summon these heroes by using tokens.
Increasing hero numbers, boosting character rank on a leadership board, and gaining new hero capabilities are additional ways to enhance your player experience. They require more tokens, though. You can also use tokens to purchase character gear, weapons, armor, etc.
What is
Idle Cyber?
What is Idle Cyber? It's an imaginary world set in 2088; after Judge Day, there is a fight to the death on Earth between humans and Cyborgs. What is Idle Cyber game? It's an RPG (Role-playing game) where you can assemble, combine and destroy these creatures. You defend the human race from a non-mobile tower.
The only weapons available to you are a Cyber Defense team of mutants you guide and large walls to protect humanity from Cyborgs and giant Bosses, as reported on idlecyber.com.
While defending humanity, you earn two types of valuable tokens: $AFK and $IDLE.
The former is a governance token used to buy, stake, trade NFTs and vote on important matters.
Use the second token for in-game benefits like hero upgrades and gear purchases.
Based on the 1980s classic game Cyber War. BeeMob Studio, a 2018 firm guided by Google in Singapore, produced and developed this new game. Idle Cyber is the updated blockchain version of Cyber War on the market.
How to play
Idle Cyber?
How to play Idle Cyber? It features three modes: Play Game, Pay to Earn, and GameFi:
In Game Mode: RPG fans collect heroes for their frontier defense while enjoying gorgeous graphics.
In Pay to Earn Mode: Deploy collected heroes to protect humanity while earning tokens and NFT rewards for skillful play at critical times.
In GameFi Mode: Gamers trade upgraded NFT acquired in the previous modes. Using DeFi features, there's a full-stack marketplace available to get the most value for them.
To play Idle Cyber, you engage in battles in the Campaign mode, the Arena, and the Grand Arena.
In Campaign mode: It's separated into four ranks depending on your Cybers' numbers and levels. In these PVE matches, your rating determines the maximum wins allowed.
In the Arena: the number of Tier-6 Cybers owned determines your rank. Here, you get ten free fights daily.
In the Grand Arena: Players get a free hit. Two-minute matches occur.
How Does
Idle Cyber

work?

How does Idle Cyber work? Gone are the days when gamers wasted their time and energy creating in-game assets like weapons, extra powers, etc. They would vanquish into thin air when old school game developers pulled the plug. Now, those in-game assets have value as NFTs. Gamers create, own, and control their NFTs on the blockchain. Reports of high-valued NFTs flood the news today.

Loyal players are, in a sense, in-game content creators. The time and energy spent improving their heroes, the environments, and solving community problems produce valuable digital content. Start playing Idle Cyber now to take full advantage of these opportunities.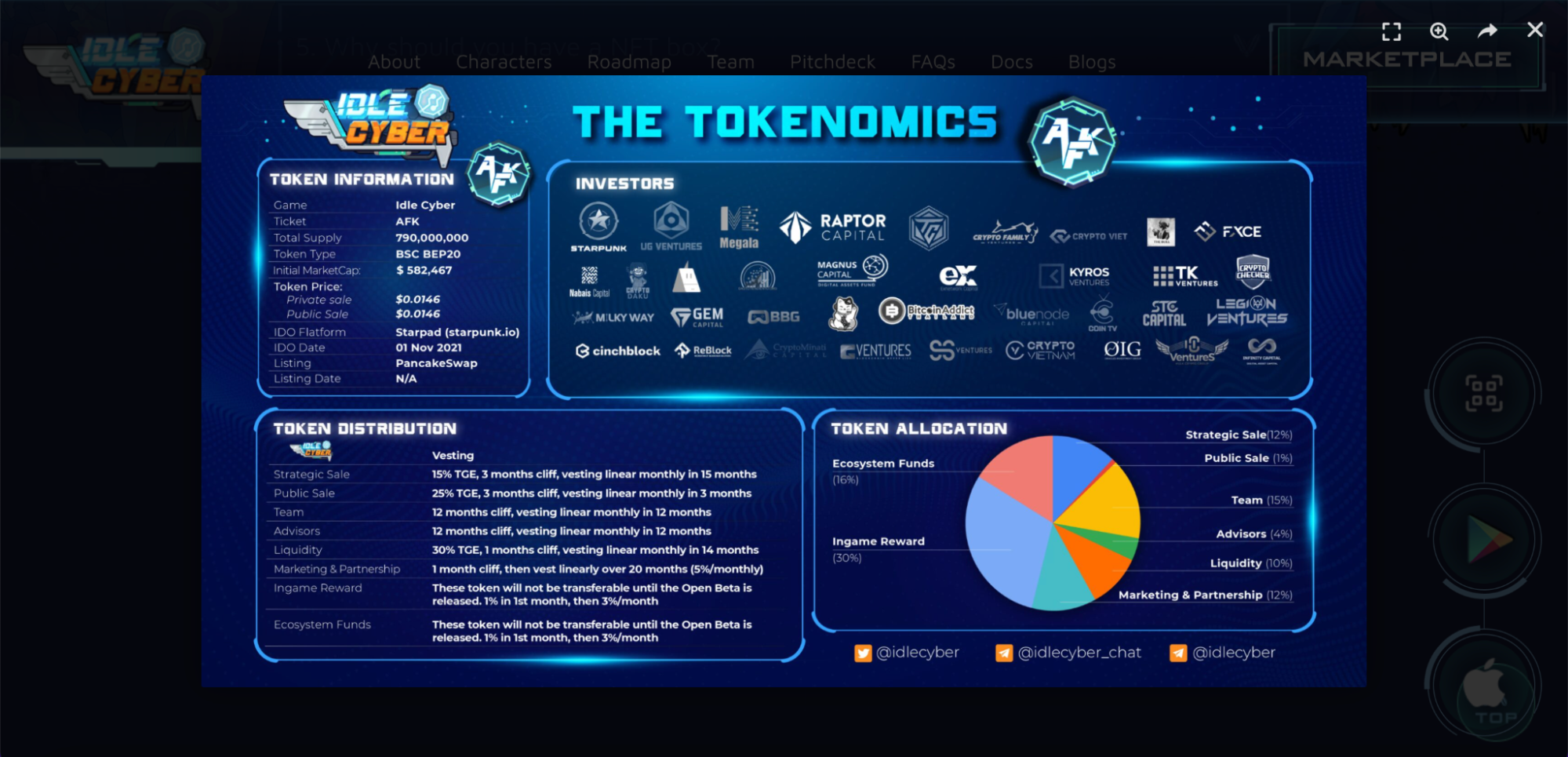 How to make money on
Idle Cyber?
Make money with Idle Cyber. Like other P2E games, players earn in-game tokens, redeemable for legit crypto coins and then for money, by participating in a list of quests, battles, and breeding new creatures.
To make money on Idle Cyber, just sign up now. The price is free.
Idle Cyber is available on Google Play and App store on Android (Samsung) and iOS (iPhone) respective devices. This Pay to Earn game is also PC-accessible by downloading the app on the browser.
How much can you earn in
Idle Cyber?
How much can you earn in Idle Cyber? It's all based on tokenomics, according to the experts at bnbsmartchain.com. $AFK is Idle Cyber's governance token, and its total supply is 790MM tokens. Reserved are some 30% of those tokens or 237MM as in-game rewards for players according to its whitepaper.
This generous percentage represents large potential rewards for gamers to earn money from both NFTs and tokens in the future. These are entrepreneurial P2E opportunities for gamers in the Metaverse. What's the prediction for your future earnings?
It also depends on the game's popularity with the gamer community. For example, when the hugely popular NFT game Axie Infinity took off, the rewards were massive. The most expensive Axie character sold last year for 300 ETH, at a price of over $1 million today, as reported on videoweek.com. Also, the Tech Times claims that some players are making up to $100 a day playing Axie Infinity. You, too, can start to earn money in Idle Cyber today.
Conclusion
If you're looking to play an NFT game full of eye-popping content in 2022? Do you want to play to earn crypto? Do you need the ability to convert it to cold, hard cash? And at the same time have loads of fun without cost?
If yes is the answer to those questions, Idle Cyber is the best choice for you.
Besides having incredible graphics, unlimited levels of gameplay, more than 64 characters, you also have the unique opportunity to start at the ground floor of a gaming investment with enormous upside potential.
Why not join the Idle Cyber gaming community as a player and a contributor? Build valuable hero and landscape NFTs, improve those NFTs to earn even more in-game tokens, and have a blast while doing so.
Who knows? Maybe your next status will be a millionaire NFT creator/owner next door and help shape the future of Web 3.0 and the Metaverse.
Let's start?
Start earn money playing Idle Cyber right now!