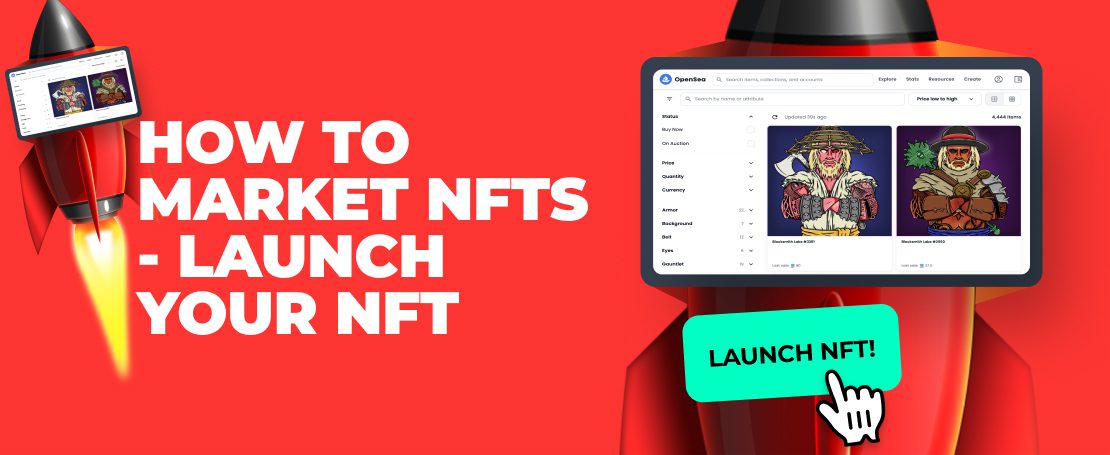 August 24, 2022
How To Market NFTs – Launch Your NFT
NFTs are all the rage these days. You have probably heard about them, talked about them, bought them, or even created them. If you are a digital artist and looking to jump aboard the NFT bandwagon, we are going to show you how to market your creations effectively.
Minting your NFT is just the beginning. For you to be successful and attract the right buyers for your collection, you will first need to attract the right attention. This means building hype around your product and getting the word around as quickly as possible.
The problem is, it is often hard to be both a creator and a marketer. That is why we created this guide to show you how to launch your NFTs the right way and effectively promote them.
Why is NFT Marketing Important?
Like any other product, marketing your NFTs is crucial for several reasons:
It helps increase demand for your collection by building hype
With increased demand, your art will fetch higher prices
It helps build your credibility and portray you as a reputable NFT artist
It may open doors to networking opportunities
How to Market Your NFT the Right Way
Use Instagram
Work with influencers
Join Discord
Take advantage of Reddit
Organize a Giveaway
Use Instagram
Instagram is the best social media platform for sharing photos. This makes it the perfect place to kickstart your NFT marketing. You can use several ways to get more eyeballs for your art through Instagram.
Some popular strategies include:
Creating a dedicated Instagram page for your NFTs instead of using your personal account. This helps you be more professional and attract the right buyers.
Using catchy hashtags and engaging captions to get your art to the right people
Sharing your art as reels to increase engagement and reach a wider audience
Paying for Instagram advertising. This will also help you reach more people, some of whom might be potential buyers.
Work With Influencers
If you think building your own Instagram page is too tedious, you can work with influencers and let them do the marketing for you. These are people who already have established social media following and may help to quickly get your NFTs in front of the right audience.
Influencers can easily leverage the momentum and get people talking about your product. When approaching influencers, you need to be professional about it so they can take you seriously. Don't simply shoot them a message and wait for the magic to happen.
You want to build a strong relationship with them and show them what they stand to gain by promoting your collection. We recommend working with micro-influencers who at least have some knowledge or interest in NFTs. Micro-influencers have smaller but more engaged and easier to convert audiences.
Join Discord
If you are looking for an engaged community of NFT enthusiasts and potential investors, you will likely find it on Discord. This is a chat platform that uses video, text, and voice to create a community of engaged and like-minded people.
The platform has been recently used to widely promote NFT products and has become the go-to place for crypto lovers and digital creators. Many popular NFT creators are now using Discord servers to launch and promote their art.
Discord is perfect for NFT marketing because of several reasons:
You get access to an engaged and passionate community of NFT enthusiasts
You can directly interact with potential clients and offer a better customer experience
You can effectively brand yourself through strategic storytelling
Take Advantage of Reddit
Reddit is another great platform you can use to market your NFTs. There are many NFT subreddits that you can use to talk about your art and hopefully fall on the radar of potential buyers.
We recommend starting a thread on Reddit that will allow you to market your product without being too 'salesy'. For instance, you can ask Redditors to mention their favorite NFT creators and then drop your name and a link to your collection somewhere in there.
You should be active and contribute to discussions about NFTs or related topics. Reddit itself recently published a comprehensive guide to NFTs and might soon be launching an NFT project. This means that the platform is already pro-NFTs which makes it perfect for pushing your marketing efforts.
Organize a Giveaway
People love free giveaways. That is why this is such a popular marketing strategy. This strategy works great if the giveaways are part of an upcoming collection. In fact, many NFT creators are using giveaways to lure more buyers and increase demand for their art.
A popular practice is to give away free NFT collectibles or even physical samples of your work. In return, you can ask people to follow you on, say, Instagram, share the giveaway, invite friends or retweet your story.
This way, you will be able to create extra buzz around your product and potentially get discovered by prospective buyers.
Conclusion
When marketing your NFTs, you want to make sure that you have a clearly-defined roadmap, a solid presence on all pertinent channels, and a reliable support system. You want to quickly build trust and generate value that potential investors can appreciate. By using the strategies we have discussed here, you should be able to quickly kickstart your NFT project and get the attention of the right people.