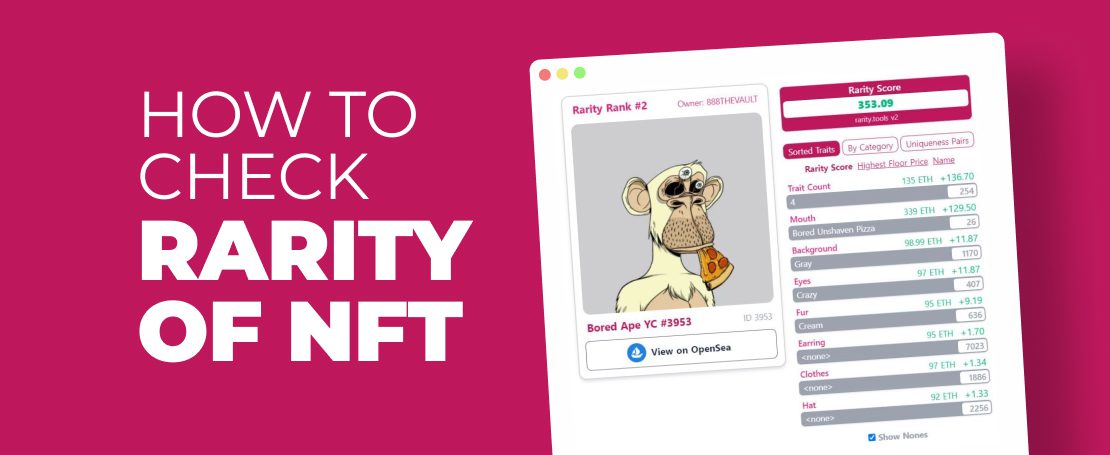 August 26, 2022
How to Check Rarity of NFT: Use Simple Tools to See NFT Rarity
Since the NFT sphere exploded and some were sold for record-breaking sums, this area has gotten much attention. So, the web is flooded with questions 'How to check rarity of NFT before I buy it?', 'How to check NFT rarity OpenSea?', 'How to find rarity of NFT directly on a marketplace platform?' and 'How to see rarity of NFT with other rarity instruments?'. 
Now, it is too much to answer in a single paragraph, but we will guide you through the topic with this short article. You are going to find out the ways to get information on the methods to prove NFTs rare and consolidate your decision to purchase them. 
How to Check NFT Rarity: Best Online Tools to Check NFT Rarity Details
Since holding an especially rare non-fungible token is somehow a marker of being an owner of something truly exceptional, knowing how many similar NFTs might exists is crucial. It is not that there may be copies – as we know, NFTs are impossible to 'steal' and 'copycat.' 
However, the presence of features that remind viewers of this NFT in other works of art can make the original less unique and hence, less valuable. 
Helpers like Rarity Tools are called to search around projects and show you how rare your purchase is. For this, use the token's ID – the number after # in a collection. The tool gives:
information about the token's traits

data about the project: number of NFTs in it, average and floor prices, total sales, etc.
For example, when you search one of the Bored Ape Yacht Club's apes, all the features like eyes, mouth, hats, clothes, jewelry, fur, backgrounds, and trait count will be described. That's how to check NFT rarity with Rarity Tools. 
How to Rare NFT on Solana Blockchain?
Not all NFTs are created equal. As more blockchains start to host NFTs, such as Solana or Polygon, searching among the tokens based on the same platforms might help. 
With HowRare.is, you'll find how rare the token is and show the rarity score. Just search the collection and ID, and the tool will show you the rank. The rarity score consists of the rarity scores of all NFT's traits.
How to Check the Rarity of an NFT With a Popular Tool Rarity Sniper
When it comes to how to rare NFT with third-party tools, it's all done in a similar way. For example, rarity Sniper, just like Rarity Tools, offers a large database of NFT collections across several blockchains. Yet, this one provides an additional Discord channel that works with the bot command. 
How to check the rarity of an NFT in Rarity Sniper? Enter the token's details and study the instant reply carefully to see its rarity ranking (given in a big number as #…) and the score of the NFT's separate features. 
How to Check Rarity of NFT on OpenSea in One View
Okay, all the tools described above are effective, but what if you want a quicker solution? Here is how to check rarity of NFT on OpenSea: if you use Chrome as a web browser, set up the extension NiftyRiver. It will allow you to find the rarity directly on the marketplace OpenSea.
How exactly does it happen? Info on an NFT's rarity will appear automatically on the page. Click on the rarity rank of the desired NFT to open the new tab with all rarity details. That's how to find NFT rarity right on the selling platform! We hope that was useful and will let you make wise decisions.