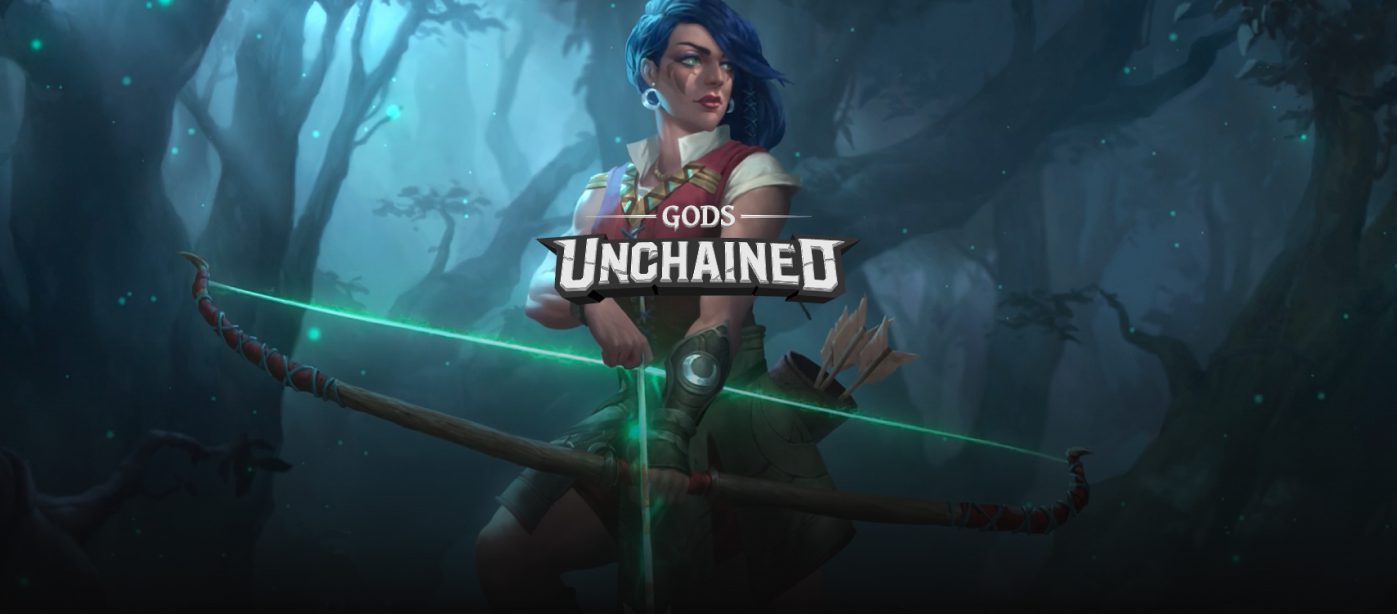 Gods Unchained
We intend to provide a Gods Unchained game review to give a comprehensive insight into the game. For example, the game developers describe it as 'pays to play.' Is it just another card game played online? What makes it unique?
Gods Unchained was launched by two brothers, James and Robbie Ferguson, in March 2021. The brothers previously created Immutable X, popular as a multiplayer blockchain game. Therefore, undoubtedly, there are many expectations among users for this game. So far, over 13 million Gods Unchained NFTs are out there! Let's continue reading the Gods Unchained review to understand how players can earn money from it!
What is
Gods Unchained?
You might be wondering what is Gods Unchained Game? It is an online card playing game powered by the Ethereum blockchain. It is free for anyone – there is no initial investment. Instead, gods Unchained utilizes the play to earn a model, encouraging users to spend their time playing and make a reward while playing the game. Then, the players decide what to do with their cards – play, trade, or sell them as they see fit. The game was announced in 2018. So, their sale of cards started in 2018 – and until this point, the brothers have sold millions of such cards.
If you have previously played online card games, this should not be too new because the concept is the same. The players use their fantasy cards to engage in duels with other players. However, the underlying technology is different here – with Ethereum powering the game and the players to experience digital ownership.
You now know what is Gods Unchained – on a fundamental level. Let's go deeper.
How to play
Gods Unchained?
It is time that we figure out how to play Gods Unchained.
Head to their website, godsunchained.com, and sign up as a new player. After completing the initial setup according to the instructions, you will be rewarded with 70 free cards to start playing Gods Unchained. Use these sets of cards to get familiar with the game.
You have to choose either 'solo mode,' 'constructed mode,' or 'ranked constructed' mode to start playing. As a beginner, you can begin with 'solo mode,' where you will play the game with a bot. Starting to play with a bot gives you time to get used to the game in your own time and practice your card tricks.
After your trial in solo mode, make sure to head to the 'constructed mode.' You will face real-world opponents sitting behind a computer in this mode, just like you. You can progress to the next level in this mode and unlock more card packs.
In the third mode, 'Ranked Constructed' you can further level up by unlocking prizes and rise in your ranks. You can also earn crafting tools called 'Flux' for card crafting in this mode.
It's like any other card game with more attractive features. Let's play Gods Unchained!
How Does
Gods Unchained

work?

We understand how to play the game, but what happens behind the scenes? How does Gods Unchained work?

Gods Unchained combines two popular things to achieve its success – love for card games combined with the power of blockchain to give players a chance to earn real money from their love of playing card games.

Earlier, card game players played with fake money and concepts. But in Gods Unchained, the game has its own currency – so the players are not required to buy an NFT to start playing the game, although players can choose to trade their cards in the marketplace.

The cards used in Gods Unchained are in fact NFTs minted on the Ethereum network. So it is not fake money like in a kids Monopoly game anymore. NFTs are digital assets that have real value. The cards could therefore be sold in the marketplace for the GODS currency used in the game, or traded into fiat.

Why do you wait? Start playing Gods Unchained!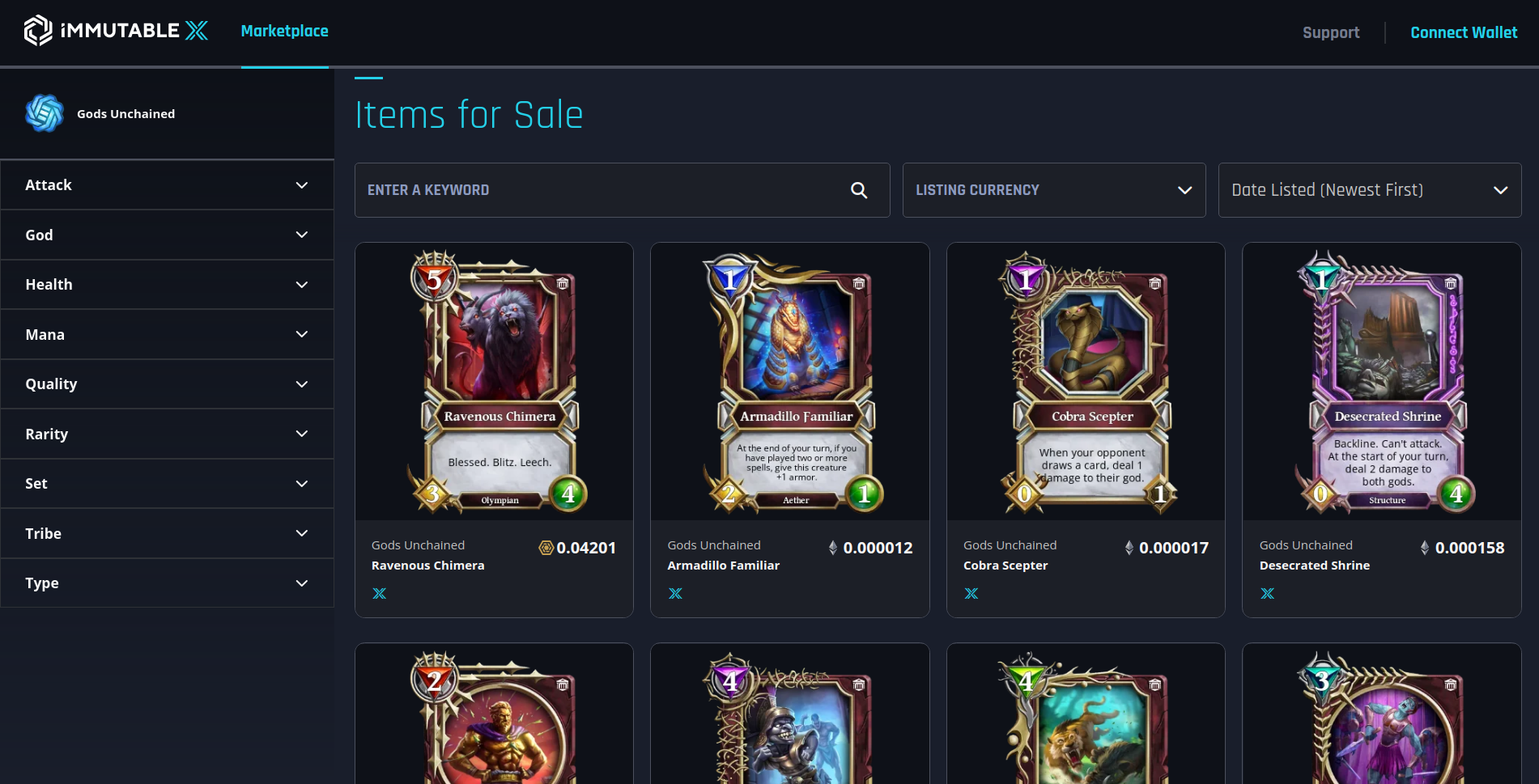 How to make money on
Gods Unchained?
To make money on Gods Unchained, you should progress to the third mode, 'Ranked'. When you start winning games in the ranked mode, you will win crafting tools called Flux. Accumulate more flux.
Once you have sufficient Flux collected, go to the 'Forge.' Fuse duplicate Core cards to create higher quality cards using the Flux you have accumulated. The new high-quality cards you have created are then minted as NFTs! Guess what, NFTs have actual value and can be traded in the marketplace! What a way to make money with Gods Unchained!
$GODS is the coin or currency used in the game, which is also a listed cryptocurrency token traded in a number of exchanges like Coinbase and KuCoin. Its current price is around $2.88.
How much can you earn in
Gods Unchained?
Let's see how much you can earn in Gods Unchained.
It might not be straightforward since you don't have any cash to start playing the game. So it might take some time to make real money. You should progress to the third mode called 'Ranked' to earn Flux. Then accumulate it before heading to the forge.
You cannot make substantial money overnight. You have to earn it, and some players claim to have made $450.00 on the weekend. So it's not impossible!
What is the prediction? The best way to predict how much you can earn is to start playing. It does not cost anything to start. Download this legit game on your iOS, iPhone, or Android mobile device. Make use of this guide to update yourself. Then you can start playing, earn money in Gods Unchained, and have a better idea depending on how much time you invest!
Conclusion
Gods Unchained is one of the best and most popular blockchain-based games out there. The gameplay is designed to be engaging, intellectually stimulating, and fast-paced – with an added ability to earn money. Thanks to its novelty in combining card games and blockchain, the game has achieved its status today, and the reputed team that built it. So we guess that Gods Unchained will soon get much more popular in the crypto news circle.
So don't miss out on this chance to start playing and earn more money!
Let's start?
Start earn money playing Gods Unchained right now!